U.S. Consumer Confidence Declines, Inflation Expectations Remained Elevated, Oil Lower, Gold Higher
| 31 May, 2023 at 12:09 GMT
PREVIOUS TRADING DAY EVENTS – 30 May 2023
Announcements:   
The U.S. Consumer Confidence report showed a lower index figure, 102.3 versus the previous 103.7, down to a six-month low in May. Consumers were worried about high prices and they are expecting inflation to rise to higher levels over the next year.
"Consumer confidence levels are in a holding pattern even if they are saying it isn't quite as easy as it was to get a new job," said Christopher Rupkey, chief economist at FWDBONDS in New York. "Older Americans were less confident in the future, perhaps with talk of budget cuts and the eventual need to rein in entitlement programs like Social Security and Medicare."
President Joe Biden and Republican U.S. House of Representatives Speaker Kevin McCarthy on Sunday signed off on an agreement to temporarily suspend the debt ceiling and cap some federal spending in order to prevent a U.S. debt default.
The U.S. labour market remains tight but is gradually easing. Recent data showed its resilience and consumer expectations are slightly more favourable this time. 13.6% of consumers expect more jobs to be available, down from 14.3%. However, 20.2% anticipate fewer jobs, down from 21.3%. 
"Job growth is slowing," said Jeffrey Roach, chief economist at LPL Financial in North Carolina. "Investors should expect Friday's job report to reveal emerging cracks in the labour market."
Source:
https://www.reuters.com/markets/us/us-consumer-confidence-dips-may-survey-2023-05-30/
______________________________________________________________________
Summary Daily Moves – Winners vs Losers (30 May 2023)
XAUUSD reached the top of the winner's list yesterday with 0.82% price change and leads this week so far.

USDJPY has made the most gains so far, 2.78% since this month started. 
______________________________________________________________________
News Reports Monitor – Previous Trading Day (30 May 2023)
Server Time / Timezone EEST (UTC+03:00)
Midnight –  Night Session (Asian)
No significant news announcements, no special figure releases. 
Morning – Day Session (European)
The Swiss GDP figure and Spanish Flash annual CPI  figures were released at 10:00, and they did not have much impact on the relevant pairs.
At 17:00 the U.S. CB Consumer Confidence figure was released with the figure of 102.3, being less than the previous one and showing a decline in consumer confidence with price expectations to remain elevated. At the time of the release, the USD appreciated against other currencies but not significantly. 
General Verdict: 
The absence of major figure releases results in low volatility for most instruments. 
The market is waiting to react to the long-awaited U.S. Employment data on the 2nd of June and to the Debt Deal developments. 
______________________________________________________________________
FOREX MARKETS MONITOR
GBUSD (30.05.2023) Chart Summary
Server Time / Timezone EEST (UTC+03:00)
Price Movement
GBPUSD experienced low volatility until 9:00 when the European Markets opened. It started reversing and moving rapidly upwards, crossing the 30-period MA until it found resistance at near 1.24460. The movement ended at that level and a retracement took place back to the mean.
Trading Opportunities
As depicted on the chart, we used the Fibonacci retracement level to set our target when going short. That is at the 61.8 FE level. 
Related Analysis on TradingView: 
https://www.tradingview.com/chart/GBPUSD/8KKJuCKf-GBPUSD-Retracement-30-05-2023/
____________________________________________________________________
EQUITY MARKETS MONITOR
NAS100 (NDX) 4-Day Chart Summary
Server Time / Timezone EEST (UTC+03:00)
Price Movement
The index has been moving upwards following an upward trend since the 24th of May. Recent developments in the U.S. pushed the index upwards much but the U.S. stock market overall is not following an upward path but rather mixed paths. The risk-on mood is not entirely turned on, only some stocks are preferred and that is why there is a possibility that we might see a reversal for NAS100. Technically, the RSI shows lower highs (Price shows higher highs) signalling that a bearish divergence is formed. Important support level at 14310 USD.
______________________________________________________________________
COMMODITIES MARKETS MONITOR
USOIL (WTI) 4-Day Chart Summary
Server Time / Timezone EEST (UTC+03:00)
Price Movement
Crude was moving sideways the past few days around the 30-period MA until yesterday, the 30th of May when it dropped rapidly. It found support at nearly 69 USD. Even though we are waiting for a retracement, it would be appropriate to see if the price is going to move upwards breaking some important resistance first, confirming that retracement at 69.80 USD.
XAUUSD (Gold) 4-Day Chart Summary
Server Time / Timezone EEST (UTC+03:00)
Price Movement
Gold has broken the triangle downwards but with a false signal yesterday, 30th May. It reversed after only a 5-dollar fall and moved upwards, crossing the 30-period MA and rapidly reaching higher levels. It found resistance at 1964 USD before retracing at the 61.8 Fibo level, near a 7 USD retracement.
______________________________________________________________
News Reports Monitor – Today Trading Day (31 May 2023)
Server Time / Timezone EEST (UTC+03:00)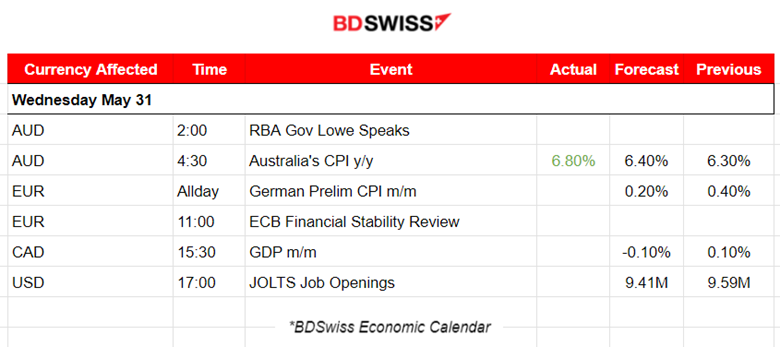 Midnight –  Night Session (Asian)
The annual CPI figure for Australia was released yesterday and it was higher than expected, more than the previous figure. It was reported to be 6.8% which is quite high. RBA has more to do in regards to raising rates it seems. Expectations are surely towards that direction.
Morning – Day Session (European)
At 15:30, an important GDP figure for Canada is about to be released and we might see some impact on CAD pairs at the time but not so great perhaps.
At 17:00 JOLTS Job Openings report will probably have a great impact on the USD pairs. Expectations show lower figures. This is one of the most important labour market data this week and there's a chance that instead of the market currently reacting greatly, it might wait to see the NFP report on Friday instead.  
General Verdict: 
RBA will probably continue rate hikes as inflation persists.
News at 15:30 and 17:00 will probably shake the markets. 
USD pairs are expected to experience a shock from the JOLTS Job Openings report. 
______________________________________________________________